Carbon Landscapes is set to play a major role in what's believed to be a world-first project creating a network of wildlife sanctuaries to protect Australia's threatened animal species.
The recently launched SEASON (South-East Australia Sanctuary Operations Network) initiative is bringing together scientists, landholders, farmers and entrepreneurs throughout Victoria to establish 30 privately-owned and funded sanctuaries to save 30 species by the Year 2030.
Ushering in a groundbreaking era of conservation in Australia, the scheme will open up new opportunities for eco-tourism and carbon offsetting as well as regenerating large tracts of land to bolster biodiversity.
How we're helping to make a difference
Carbon Landscapes is working closely with respected, environmental not-for-profit organisation Odonata which is coordinating the SEASON program, funded by World Wide Fund for Nature Australia.
Our role involves onboarding and mentoring landholders, with the concept having already attracted interest from owners of more than 70 parcels of land in Victoria alone.
Three of our own flagship properties- Stony Rises (pictured above) covering 400 hectares in Western Victoria, Telopea Downs covering over 800 hectares in the Mallee, and Bornes Hill covering 90 hectares in the Grampians, have all been nominated as potential sites, as work gets underway to identify the best locations across the state.
We are currently investigating how best to support endangered species such as the spotted-tail quoll, koala (pictured above), and long-nosed potoroo.
Teamwork the way forward
Teamwork is what will make SEASON so innovative.
A wide suite of skills is needed to run a successful wildlife sanctuary – from the science of repopulating the land with critical fauna to finding the right business model to make it sustainable.
With a network of professionals from different backgrounds on board, SEASON represents a new milestone in the battle to stop extinction of many of Australia's native wildlife species.
That's why we're so keen to be involved and sharing some of our knowledge.
Carbon Landscapes' founder Dr Steven Enticott – an accountant and business coach - will bring an entrepreneurial flair to SEASON. Acting as a business mentor over an initial six-month project, he will assess future sanctuary owners' business models to help ensure financial viability.
His own family were pioneers in the field of conservation, having privately regenerated thousands of hectares on the Pirron Yallock Creek in the 1970s.
SEASON's monthly sessions, as well as individual support, have been designed to teach landholders how to become expert sanctuary operators, covering everything from species planning to licences and pest control.
Key species
Among the key species being targeted by SEASON are the eastern Quoll; eastern barred bandicoot; southern brush-tailed rock wallaby; bush stone curlew; eastern bettong, and southern brown bandicoot.
Odonata's Mt Rothwell sanctuary, the largest feral predator-free ecosystem in Victoria and only 50 kilometres from Melbourne, offers a model for what can be achieved in a relatively short space of time.
In just 11 years, Mt Rothwell has managed to boost populations of the eastern barred bandicoot – which at one stage hadn't been seen in over 50 years - from approximately 40 animals to as many as 1500 right now.
The sanctuary is thought to support about 80 per cent of the animal's population Australia-wide.
Similarly, Mt Rothwell has about 100 southern brush-tailed rock wallabies – whose wild population once hovered at half that number for about 40 years.
Next steps
Preliminary scientific testing of our potential sanctuary sites to determine their suitability, including eDNA sampling for species presence, is already underway.
Carbon Landscapes is looking forward to playing its part in saving our natural heritage for the next generation. To find out more about what we're doing, or to get in touch to see how you can help us tackle climate change and restore biodiversity, phone 1300 242 829 or email.
How climate change is putting the heat on our national icon's survival
It may be the "rock star" of Australian wildlife species, but the koala - like many other animals - is struggling under the impacts of climate change.
Away from the gaze of an adoring public, the stark reality is that in addition to loss of habitat, the warming earth is wreaking havoc on koalas – right down to sucking what little nutrition exists from their favourite food.
Recently classified as endangered across the eastern seaboard in NSW, Queensland and the ACT, the focus is urgently shifting to building resilient koala populations throughout those states as well as other parts of the country.
According to the Australian Koala Foundation, 30 per cent of Australia's remaining koalas have been lost in just three years – and as much as 41 per cent in NSW and the ACT.
While eucalyptus forests have vanished at an alarming rate across the country in the past 200 years, new threats to the survival of our national icon are emerging.
Read on to find out more and how you can help ensure its survival.
Climbing down out of the trees and into danger
Altered rainfall patterns and increased carbon dioxide in the atmosphere due to climate change has been shown to change the amount of protein, and water, in gum leaves while also elevating the level of toxic tannins.
Hungry, thirsty and desperate, koalas are risking life and limb by climbing down out of their trees in search of food and water.
Because their habitats are now so fragmented, they're being forced to cover long distances – leaving them vulnerable to predators including dogs as well as getting in the way of passing vehicles.
There's also another major threat to their survival.
With climate change fuelling increasingly extreme bushfires in Australia, koalas are directly affected.
While they can hit speeds of up to 30km/h over short distances, they're relatively slow-moving.
It makes them particularly vulnerable in bushfires – combined with the fact that eucalyptus trees burn quickly and intensely.
According to the Victorian Government's just-released draft Koala Management Strategy, the 2019/2020 bushfires also highlighted the lack of vets in Victoria with the specialist expertise needed to treat burnt and injured wildlife.
What can you do to help?
Ideally located throughout Victoria, Carbon Landscapes is currently putting a range of programs in place to help ensure the grim situation in the northern states isn't repeated.
The short of it is that we're not waiting for what's happened in Queensland and NSW.
Our Stony Rises property in Victoria's west, incorporating 160 hectares of pristine woodland
and supporting an already well-established koala population, is perfectly suited for this project.
The land has been managed for conservation for more than 50 years and is a remarkable example of prime Australian wilderness.
Together with an abundant supply of manna gums – which are favoured by koalas - one of its most valuable attributes is its connectivity to surrounding private bushland, offering extensive sanctuary.
Over the next 12 months we'll be working closely with wildlife experts to ensure the strength and diversity of the local population's gene pool is maintained.
At the same time, we're looking at a range of other arboreal species to ensure the ecological balance is maintained.
Did you know?
Koalas differ in size, colour and shape across Australia. Those in Queensland are smaller and have less fur than their relatives in southern states. An adult Queensland male weigh 6-8kg, while in Victoria adult males are generally around 12kg
Because they perch themselves between the forks of branches high in the trees, they have evolved a strong cartilage at the end of their curved spines to make them feel comfortable
While they are known to be fussy eaters, with fewer than 50 of the more than 700 eucalypt species taking their fancy. They are especially fond of the manna gum, which is found in abundance at Carbon Landscapes' Stony Rises property
They do however much their way through about 500g of leaves a day.
While the leaves are poisonous to most animals, koalas' digestive systems have specially adapted
Koalas are known to sleep up to 18 hours a day and are mostly awake at night
They're solitary creatures and live about 10-12 years in the wild
It's time to get involved
To bolster biodiversity at the Stony Rises as well as explore the many ways we are financing conservation outcomes, become a Carbon Landscapes member or contact us to find out how your organisation can directly sponsor a program.
If you're in any doubt about climate change anxiety pervading all sectors of Australian society, then as business owners it's time to think again.
Carbon Landscapes recently had the opportunity to sit down for a one-on-one with researchers of a university study of almost 5,500 Australians.
Among the study's many disturbing findings is that some people didn't feel they could make long-term plans for the future – including having children.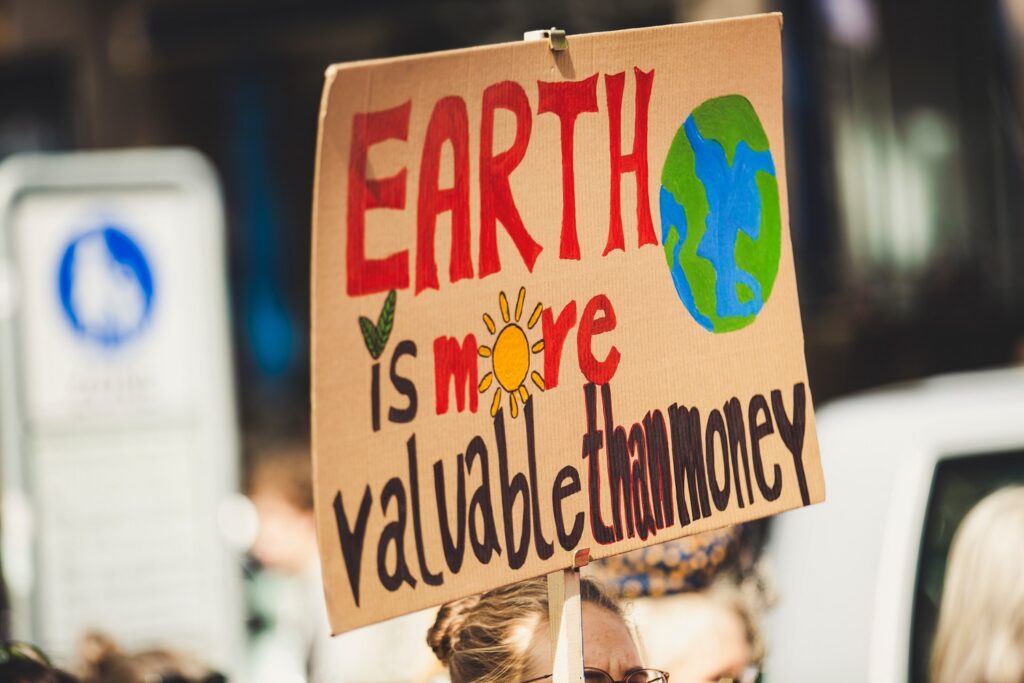 Concern over climate 'not going away'
Australians have told of how they're cancelling plans for the future - including having children and investing time in tertiary studies - as despair grows over climate change.
"It shows just how deep the level of concern about climate change exists amongst Australians of all demographics," said Dr Rhonda Garad, co-author of university research paper, Australians Report Climate Change as a Bigger Concern Than COVID 19.
Along with fellow researchers Dr Joanne Enticott and Dr Rebecca Patrick, she warns that eco-anxiety is ushering in a mental health crisis, underscored by an extensive survey of almost 5,500 Australian adults.
Young people are particularly worried. Since December 2018, thousands of students have participated in protests throughout Australia to demand that the government do more to address climate change.
"Five years ago if you'd mentioned climate change, you might have got an ambivalent response," says Dr Garad.
"What the research shows however is that concern is now real and in the face of the greatest-ever existential threat to human life, it's not going away easily.
"People commented in the survey that they didn't feel they could make long-term plans for the future, including having children.
"They also told of feeling powerless, and anger that governments throughout the world are not responding to this crisis quickly enough, fuelling what's been termed "eco-anxiety".
"What also came through was a measure of guilt over the legacy being left to the next generation.
"There's a sense of screaming into ether when it comes to global action on climate change."
The research, conducted during the height of the COVID pandemic in 2020, discovered Australians were almost three times more concerned about climate change.
According to Dr Enticott, the biggest surprise of the research was how widely fears were distributed throughout the entire population.
"Of the people we surveyed in more affluent groups, 78 per cent reported a high level of worry. But climate change was still very much a problem for those outside this group, at 42 per cent.
"Women, young adults, the well-off and those in their middle years, aged 35 to 54, showed the highest level of concern."
(Rhonda Garad is a senior lecturer and research fellow in knowledge translation and Joanne Enticott is a senior research fellow at the Monash Centre for Health Research and Implementation, both at Monash University. Rebecca Patrick is the director of the Sustainable Health Network at Deakin University.)
Become a Carbon Landscapes member
To find out more about what we're doing, or to help us tackle climate change and restore biodiversity, become a Carbon Landscapes member. You can contact us on 1300 242 829, via email or follow us on Facebook at https://www.facebook.com/carbonlandscapes/
By Carbon Landscapes co-director Dr Steven Enticott
"There's a sense of screaming into the ether when it comes to global action on climate change. People are even saying they won't be having children because they're worried about making future plans."

Dr Rhonda Garad
With Australians inheriting, in climate change, the greatest existential crisis faced by any generation, "eco-anxiety" is not just another buzzword.
My own sister, Dr Joanne Enticott - who along with Dr Rhonda Garad and Dr Rebecca Patrick - was part of a team of university researchers whose recent, well-publicised survey of almost 5,500 Australian adults pointed to an alarming widespread level of concern. Click here for our own one-on-one interview with the team.
Dr Garad's comment, above, highlights the gravity of eco-anxiety, its effects on mental health and its pervasiveness within all sectors of society.
Described as a looming health crisis, a raft of new studies – locally and internationally – highlight how acute the issue has become.
The Australian Medical Association too has joined a long list of other medical organisations around the world recognising climate change as a health emergency.
When I and Carbon Landscapes co-founder Chris Pitfield saw an opportunity to be at the forefront of a new era of private conservation – as well as tackling the twin issue of climate change – we predicted that in as little as 10 years from now every Australian business will have a "climate" or "biodiversity" project.
Not only does it make sense ethically, but with consumers and workers increasingly seeking out environmentally responsible businesses, it's also good for the bottom line.
Now is the time to act
I absolutely agree with Dr Garad's assessment of the collective Australian psyche when she talks about a "sense of screaming into the ether when it comes to global action on climate change".
The time to come together on the issue is now, and while governments throughout the world obviously have an important role to play, there's also much we can – and should - do as businesses and individuals.
2022 is already shaping up as a year of milestones here at Carbon Landscapes:
We've just partnered with Victorian-based First Option Bank to begin creating an 800-hectare safe haven for endangered wildlife in Victoria's Telopea Downs region
Its purchase adds to the list of 60 other properties we have access to for conservation across the state, and has already substantial radio and newspaper coverage
We also recognise that almost 50 per cent of our threatened species' distribution occurs on private land. That's why we're currently playing a key mentoring role in a world-first project save 30 endangered Australian animal species while creating 30 sanctuaries by the Year 2030
We're also about to begin crowd-sourcing funds from individuals and the private sector for yet another ecologically diverse parcel of land to make real inroads into saving vulnerable and threatened Australian wildlife
Of course, none of this would be possible with our close ties and partnerships with a host of scientific and ecological experts, including the not-for-profit conservation organisation Odonata, Trust For Nature, Nature Glenelg Trust, Parks Victoria , and Zoos Victoria.
My story
Call it obsession, but I've never done things by halves.
That includes an interest in the country's wild spaces as well as their welfare. My family were pioneers of the private conservation movement 50 years ago, most notably bolstering the biodiversity of a large tract of wilderness at Stony Rises (pictured above) near the Otways.
From a very young age I really began to connect and understand the wonder of the Australian bush – laying the foundations for Carbon Landscapes as well as a way of life.
On a whim at aged 17, I "escaped" from Victoria and made my way to Katherine in the Northern Territory. Along the way, I became immersed in its sweeping horizons and cathedral of stars – often just sitting and "being" in those vast spaces.
These days, you'd probably call it "forest bathing" (or Shinrin-yoko in Japanese). Regardless, it's an experience that has never left me and is part of who I am.
These days, I'm exceedingly fortunate to be able to "escape" to the bush three times or 4 days a week, travelling to a second workplace at Foster in the South Gippsland.
It's where I find the antidote to the "compression" produced by daily life – with the region's expansive spaces more than just a metaphor for "opening" back up again.
In fact, the whole extended family looks forward to getting out amongst creation whenever we can. As the photo below, taken on a trail through South Gippsland, it's where we're in our element.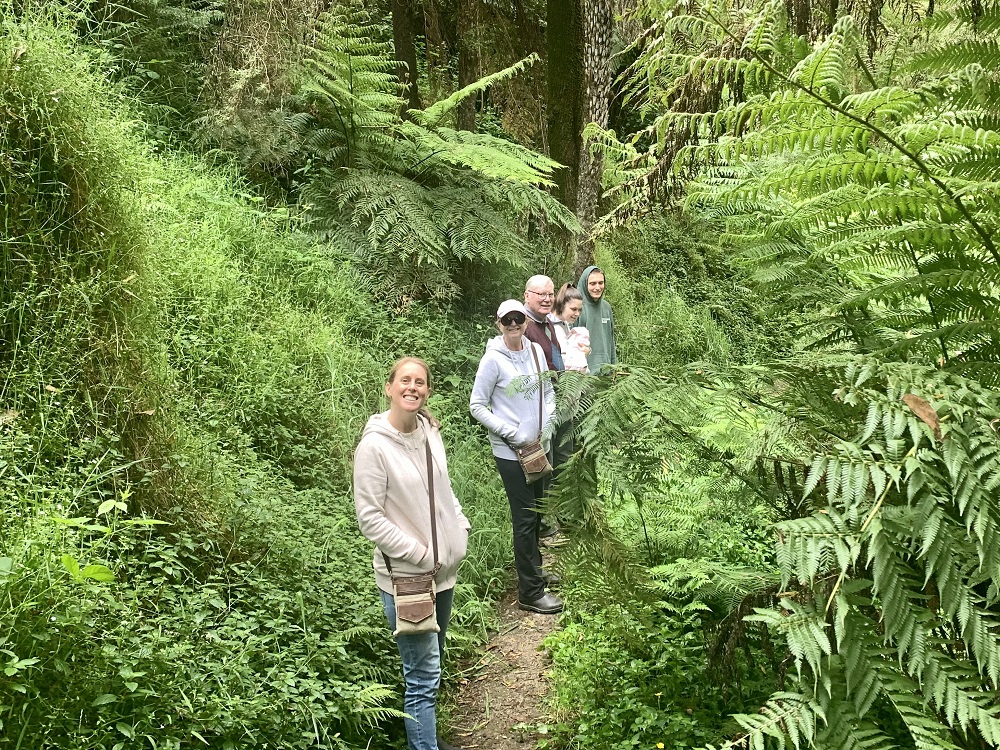 Become a Carbon Landscapes member
To find out more about what we're doing, or to help us tackle climate change and restore biodiversity, become a Carbon Landscapes member. You can contact us on 1300 242 829, via email or follow us on Facebook at https://www.facebook.com/carbonlandscapes/
What if you owned one of the most pristine private wetlands sites in Australia and you could create a lifeline to help protect hundreds of native animal species from the impacts of climate change?
At Carbon Landscapes, that's exactly what we're doing.
Stony Rises is one our long line of valuable private conservation projects, coming at a critical juncture in our country's environmental history.
As we mark World Wetlands Day on February 2, read on to find out what we're doing to boost precious biodiversity in an important pocket of Victoria's west.
Why Stony Rises is so important and what we're doing
Virtually unchanged since European settlement, our Stony Rises property has been preserved specifically for conservation for the past 50 years – making it a unique and extremely valuable refuge.
"With climate change threatening the very survival of many of our native animals, Stony Rises is quite simply one of the best strategically located, privately-owned wetlands properties for bolstering biodiversity in western Victoria," says Carbon Landscapes' Chris Pitfield.
"As people throughout Australia celebrate World Wetlands Day – which is calling for awareness to reverse the rapid loss of wetlands – it's the perfect time to highlight some of our newest initiatives.
"Wetlands – such as those found within the Stony Rises – are critical to the environment.
"They support animals and plants that aren't found anywhere else as well as store a significant proportion of the world's carbon and help to stabilise climatic conditions."
These images, taken in recent weeks, highlight the work being undertaken with a team of scientists – including eDNA sampling to determine what endangered species are currently living on the property. Covert cameras have also been set up to track species.
"Already we've uncovered evidence of wombats – previously wiped out through most of western Victoria - living on the property," said Chris.
"As well, we know it's an important site for a wide array of waterfowl, migratory birds from many parts of the world, all sorts of frogs as well as koalas and many other species.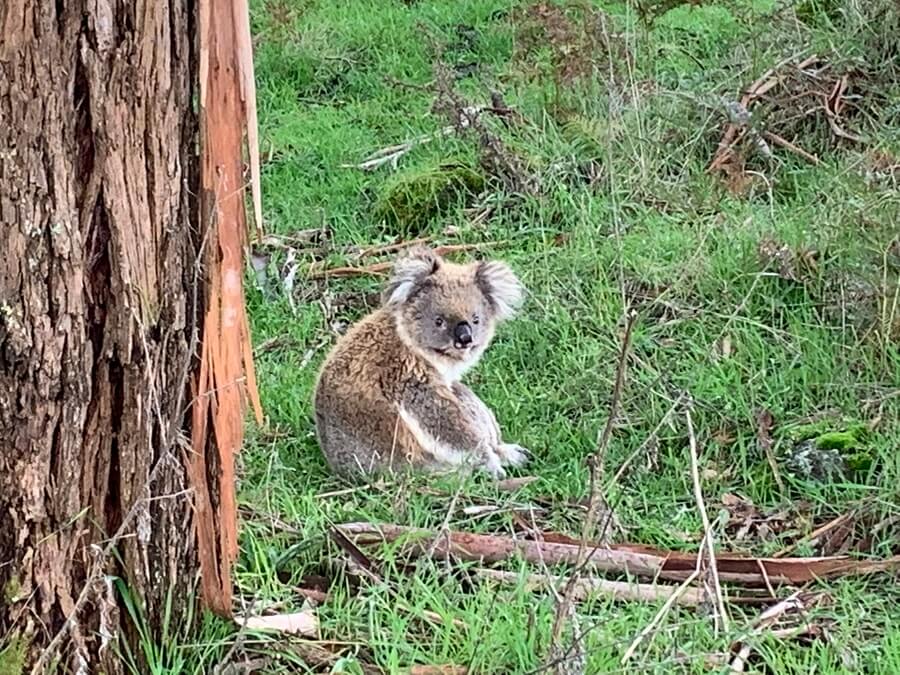 "Over the next 12 months we'll be exploring ways to remove introduced, predator species and managing the habitat in parallel with other similar groundbreaking projects we've instigated across the state."
Since the 1970s, the land at Stony Rises has been in the family of Carbon Landscapes co-director Dr Steven Enticott, pioneers of private conservation in Australia.
Located south of Lake Corangamite, many of its wetlands are permanent and not subject to seasonal drying out.
This will make it even more important for the future survival of wildlife, with many species predicted to migrate to the cooler climes of Australia's southern parts to escape rising temperatures in coming years.
In addition, almost 95 per cent of the vegetation at Stony Rises – a varied collection of woodland on a network of rocky ridges – is not within a park or reserve, with the majority only found on private land.
Lake Corangamite, coincidentally, is the largest permanent saltwater lake in Australia and listed as a RAMSAR site and is habitat for a range of local and international rare and threatened flora and fauna.
Australia's biodiversity under threat
Climate change doesn't just affect humans.
The impact on Australia's bioversity has been staggering. According to the CSIRO, more than 310 species of native animals and over 1180 species of native plants are already at risk of extinction from invasive alien species and altered habitat, as well as human activities.
In fact, many native species have already begun making their way to cooler areas or from hot, humid areas and heading towards mountain ranges.
With research indicating the effects of climate change will have significant effects on biodiversity by 2030 – just a few, short years away – and widespread and even extreme impacts by 2070, now is the time to act.
It's time to get involved
To bolster biodiversity at the Stony Rises as well as explore the many ways we are financing conservation outcomes, become a Carbon Landscapes member. You can contact us on 1300 242 829, via email or follow us on Facebook at https://www.facebook.com/carbonlandscapes
There's never been a more critical time for all Australians – including the country's two million small businesses - to help shift the dial on climate change and conservation.
New research reveals that almost half of young Australians would refuse to work for a business that is not taking action on climate change. That includes 71 per cent of Gen Z and 52 per cent of Millennials, who will soon make up the majority of the workforce.
More than 80 per cent of Australians, meanwhile, think businesses need to do more in addressing climate change.
Combined with a nationwide skills shortage, it's little wonder that employers are being warned to sit up and take notice.
Taking climate change seriously is not only the right thing to do. The bottom line is that protecting the planet provides companies with a vital, competitive edge.
By the numbers - why protecting the planet counts
Just how much do today's workers value a company that cares for the environment?
Well, according to the just-released Elmo Climate at Work Report, which surveyed more than 1,000 Australians, a heck of a lot!
Essentially, businesses need to do more to address climate change or risk losing support from customers and face challenges recruiting new employees.
In 10 years all companies will have a climate project
We know that consumers increasingly expect that the companies they are purchasing from will have "climate credibility" – in other words, a measurable commitment to sustainability.
Time is short, with Australia's climate already having warmed by over 1˚C since 1960 and the shift having had many impacts on the country's ecosystems.
At Carbon Landscapes, we're tipping that in as little as 10 years all companies will have a climate project. Costs associated with these sorts of projects will be absorbed by marketing and human resources budgets, and become part and parcel of doing business in the future.
The good news is that we're making it possible for businesses to be part of a suite of groundbreaking initiatives highlighted here.
With access to more than 60 rural properties across Victoria, we're helping to pioneer an innovative private enterprise approach to conservation in Australia, mitigating carbon emissions as well as restoring biodiversity – which is closely linked to climate change.
Along the way we're working with the country's leading scientists to help protect a range of endangered native wildlife species. With more than 70 per cent of Australia's native animals found nowhere else on Earth, it's vital work.
How you too can play your part
To play a part in bringing back biodiversity and tackling climate change, become a Carbon Landscapes member. You can contact us on 1300 242 829, or via email.
It's official! Victorian-based First Option Bank has announced financial support for our plans to save some of Australia's most endangered wildlife species.
In an exciting new step forward, First Option has formed a partnership with Carbon Landscapes to create an 800-hectare safe haven on private mallee woodland we've recently purchased at Telopea Downs in Victoria's west.
The bank has "adopted" the once-prolific Mallee Emu-Wren – the first species we are planning to help protect through building its numbers.
We're thrilled to have them on board for the initiative, which has already garnered significant media attention.
Related: Mission to save wildlife with new 800ha safe haven at Telopea Downs
According to Carbon Landscapes co-director Dr Steven Enticott: "Our partnership with First Option Bank at Telopea Downs represents a really exciting step forward for privately funded conservation in Australia.
"Their support demonstrates the ability of private enterprise to lead the way in restoring the biodiversity of Australia's wild spaces as well as protecting our native animals for the benefit of future generations.
"As proud custodians of this newly acquired site, we are now working with some of the country's leading scientific minds to create the best habitat possible for species such as the Mallee Emu-Wren.
"With more than 70 per cent of Australia's native animals found only in this country, projects such as this take on extremely high importance.
"Over the coming months we'll be removing introduced predator species and re-establishing native fauna populations, with the aim of future proofing them against threats including climate change."
To find out more about what we're doing, or to help us tackle climate change and restore biodiversity, become a Carbon Landscapes member. You can contact us on 1300 242 829
We are proud to announce we're expanding our mission to save some of Australia's most endangered wildlife species with the purchase of our latest property - an 800-hectare parcel of private mallee woodland at Telopea Downs in Victoria's west.
Perfectly located alongside the Big Desert National Park, we've secured the ecologically diverse environment to create a "safe haven" for a range of native animals including the diminutive Mallee Emu-Wren and the iconic Malleefowl.
The region is one of the few locations in Victoria where the once prolific Emu-Wren - which Zoos Victoria recently added to its Fighting Extinction species list – is now found.
At the forefront of a new private enterprise approach to conservation
The directors of Carbon Landscapes, Dr Steven Enticott and Chris Pitfield, believe that private enterprise is ideally placed to help safeguard Australian wildlife due to its ability to develop new and innovative business approaches.
With access to more than 60 rural properties across Victoria, we're leading the way with a suite of projects as a natural complement to our core business of financing conservation outcomes.
We're future-proofing a broad array of native animals against the impacts of climate change by ensuring their habitats are managed to ensure the best possible conditions.
It's why we will be working with some of the country's foremost scientific experts over the next 12 months to explore how to remove introduced predator species at Telopea Downs, manage the habitat for native species and re-establish their populations.
Telopea Downs was selected in part due to its location alongside the Big Desert National Park, the oldest of Victoria's three wilderness parks.
When numbers of our various wildlife species begin to build up again, the aim will be to release some of them into protected areas, such as the Park.
Help you can help save a tiny songbird
Despite its name suggesting otherwise, the Mallee Emu-Wren (Stipiturus mallee) is only a small bird, weighing just four grams.
Foraging for insects amongst the spinifex, it spends most of its time in dense ground cover.
A weak flyer, it is particularly vulnerable to bushfires as well as land clearing. Both have contributed to its demise – with Zoos Victoria now categorising it as endangered.
It's feared that another fire could move the species even closer towards extinction, as it has already disappeared from large parts of its former range in Victoria.
We will be working hard however to ensure this little creature will be around for many more generations of Australians to cherish.
To help protect the Mallee Emu-Wren and play your part in bringing back biodiversity, become a Carbon Landscapes member. You can contact us on 1300 242 829, via email or follow us on Facebook at https://www.facebook.com/carbonlandscapes
Carbon Landscapes is partnering in one of the largest citizen science projects in Australia's history to help bring the iconic but embattled platypus back from the brink of extinction.
We've joined with Victorian environmental not-for-profit organisation Odonata on The Great Australian Platypus Search, which is using cutting-edge eDNA technology in collecting water samples to find evidence of the notoriously elusive species from 1,500 sites across Victoria.
A range of other organisations have helped make the project a reality, including World Wild Fund for Nature-Australia, the Victorian Government, EnviroDNA, Parks Victoria, Outback Academy Australia, The Ross Trust, Waterwatch Victoria, Capricorn Foundation 2040, Environment Education Victoria, Planet Warrior Education, Fouress Foundation, PMF Foundation, and Latrobe University.
While Carbon Landscapes has assisted in bringing these groups together, we've also helped to determine the location of testing sites.
Right now, citizen scientists are gathering the samples using special test kits, which will then be analysed in the lab by EnviroDNA.
With this research, scientists will be able to map platypus populations across the state, highlighting platypus refuge areas that can be immediately supported.
Data of this quality and consistency has never been gathered on this scale before in Australia, and potentially the world, making this one of the most significant citizen science and biodiversity research projects in history.
The research will also help determine the range of other wildlife living in Victoria's rivers and water catchments as well.
Why this work is so important
The Great Australian Platypus Search represents a unique opportunity to help save an iconic Australian animal.
"Our beloved platypus is now threatened in Victoria, and numbers took a big hit during the bushfires," says Odonata Chief Executive Sam Marwood.
"Platypuses are usually really hard to track as they are so shy and eDNA technology allows us to know where they are and how we can best help. It's a revolution for threatened species conservation."
According to Darren Grover, WWF-Australia's Head of Healthy Land and Seascapes: "Platypuses are to our rivers what koalas are to our forests, but there's a real risk they will disappear if we don't better protect their habitat.
"This project will help us understand where they still survive in Victoria and provide much-needed data to inform future conservation actions."
EnviroDNA director Dr Andrew Weeks says eDNA testing enables the detection of wildlife at an unprecedented scale.
Fast facts about platypuses
The platypus is one of the world's most unusual creatures:
Platypuses have duck-like bills, webbed feet, a furry body and paddle-shaped tail
The bill – equipped with special receptors – is its primary sense organ and helps it locate small prey
Mating normally takes place between August and October in Victoria, and they usually grow to a weight of about 1.5 kilograms
Platypuses are among the few venomous mammals, with males having a spur on the back of their hind feet. The venom can cause swelling and pain to people
With platypuses threatened by Australia's worsening droughts and bushfires, people anywhere can also help just by reducing their carbon footprints and engaging in climate action
To find out more about what we're doing, or help us tackle climate change and restore biodiversity, become a member or contact us on 1300 242 829 or via email.
To borrow words from a hit TV show, "it's all about the voice".
Perhaps somewhat croaky but still hitting the right notes, the male frogs of suburbia right now are getting set to serenade their way into the hearts of potential partners as breeding season ramps up, generally coinciding with the rainy season at this time of the year.
Frogs use their voices alone to "turn chairs'' – involving a kind of "leap of faith" on the part of their potential partners.
Each species has their own distinctive call. With more than 200 known frog species in Australia, that's a bewildering array of sound and song.
If you've never noticed this hidden world of seduction, now is a great time to check out one of nature's most captivating wildlife rituals.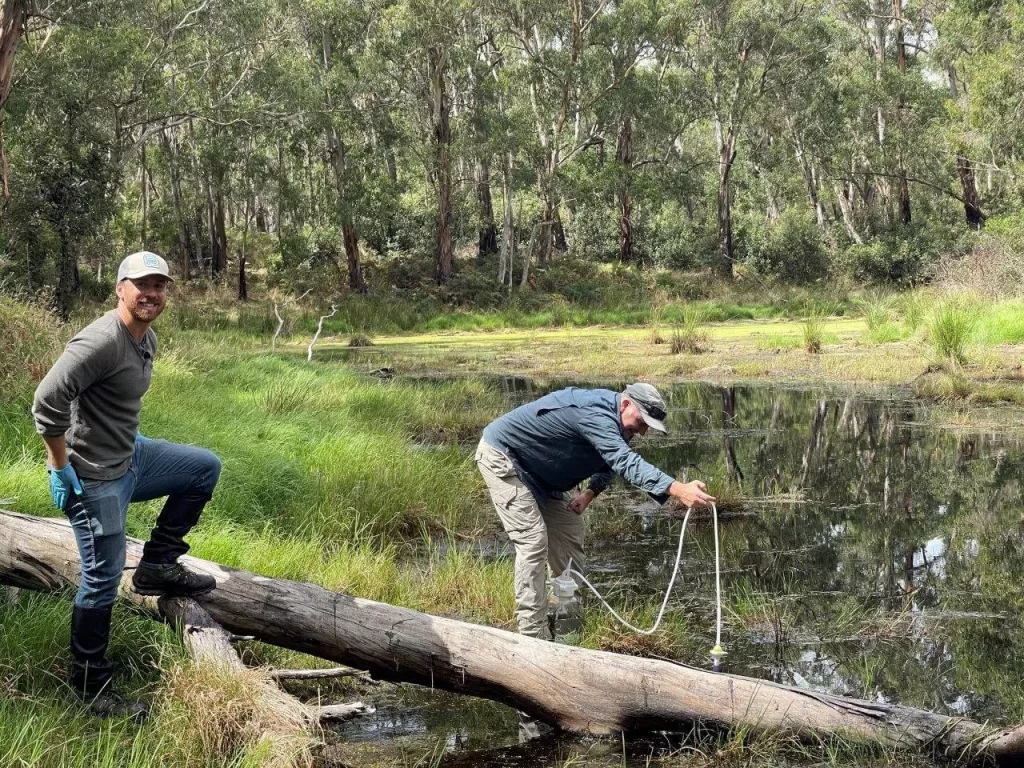 Nature's barometer
Frogs have long been regarded as a barometer of environmental health. Needing places to stay cool and moist, frogs are known to be at high risk from climate change - which is just one of the reasons we're so interested in them and their distinctive habits here at Carbon Landscapes.
Having already secured more than 2,500 hectares of land across Victoria, Carbon Landscapes is working hard not only to tackle climate change but improve the biodiversity of all our properties – including a vast range of frog habitats.
Scientists have recently detected a range of frog species on our 400 hectare Stony Rises site in the northern parts of Otway Ranges (pictured above) and our 90 hectare property adjacent to Gariwerd (Grampians) National Park.
The species include the growling grass frog, brown tree frog, common eastern froglet, southern smooth frog, pobblebonk, striped marsh frog, spotted marsh frog, Sudell's frog, and Haswell's frog.
Permanent watercourses are scattered throughout Stony Rises and are listed in the Federal Government's Directory of Important Wetlands in Australia, while Gariwerd – located close to Glenelg River - features ephemeral wetlands which dry out and re-emerge during periods of rain (check out this clip of frogs in full chorus from last year).
Three ways you can give frogs a helping hand in your own back yard
Add ponds and native vegetation: Building a pond or modifying an existing water feature are great ways to attract frogs. You could even consider converting a wet, boggy section of your yard.
Remember however not to locate the pond or habitat in a place where there's likely to be run-off from pollutants or pesticides as frogs are very sensitive to chemicals. For the same reason, never fill up the pond with treated water directly from the tap. Allow the water to sit in the sun for about a week first to break down the chlorine.
Frogs also like a well protected shady environment, including rocks, branches or logs, trees, shrubs and understorey plants. Partially buried, old terracotta pipes can make a fine substitute.
Placing garden lights around the yard will help attract moths, bugs and other insects – which provides a tasty meal for your frog companions.
Build it and they will come: Chytrid fungus is a serious threat to frog numbers. Let frogs make their own way to your pond, and never relocate from other areas. You could be spreading the disease.
Avoid handling frogs: With their sensitive skin, frogs easily absorb chemicals - this includes your hands.
To find out more about what we're doing, or help us tackle climate change and restore biodiversity, become a member, or contact us on 1300 242 829 or via email.