To borrow words from a hit TV show, "it's all about the voice".
Perhaps somewhat croaky but still hitting the right notes, the male frogs of suburbia right now are getting set to serenade their way into the hearts of potential partners as breeding season ramps up, generally coinciding with the rainy season at this time of the year.
Frogs use their voices alone to "turn chairs'' – involving a kind of "leap of faith" on the part of their potential partners.
Each species has their own distinctive call. With more than 200 known frog species in Australia, that's a bewildering array of sound and song.
If you've never noticed this hidden world of seduction, now is a great time to check out one of nature's most captivating wildlife rituals.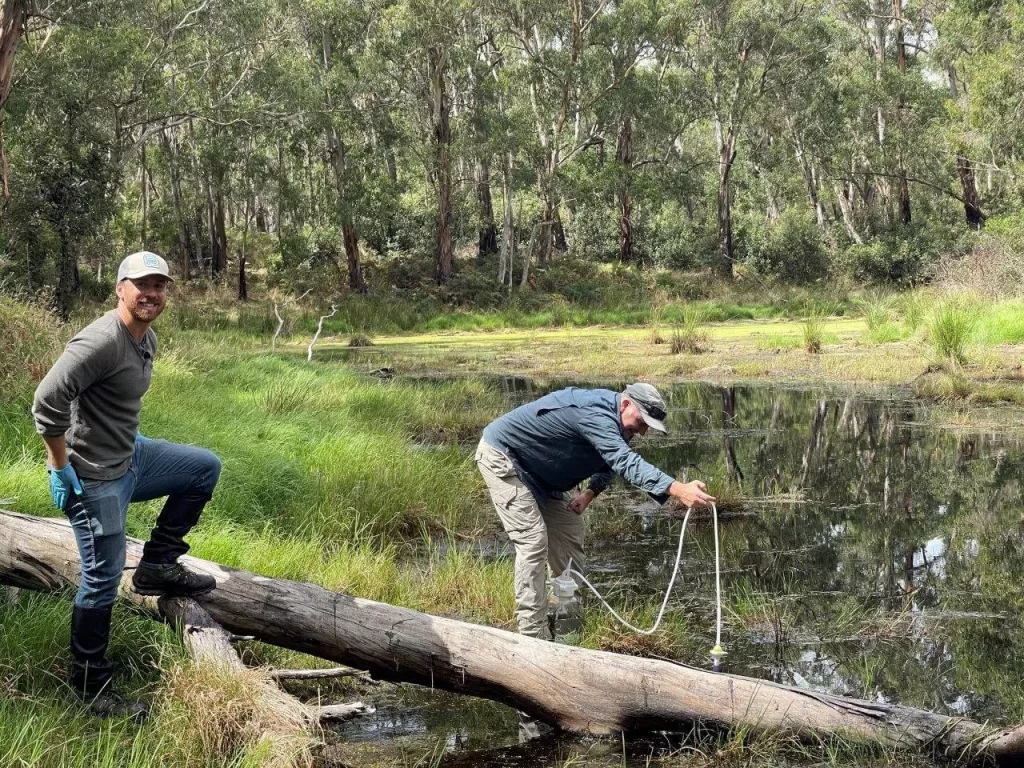 Nature's barometer
Frogs have long been regarded as a barometer of environmental health. Needing places to stay cool and moist, frogs are known to be at high risk from climate change - which is just one of the reasons we're so interested in them and their distinctive habits here at Carbon Landscapes.
Having already secured more than 2,500 hectares of land across Victoria, Carbon Landscapes is working hard not only to tackle climate change but improve the biodiversity of all our properties – including a vast range of frog habitats.
Scientists have recently detected a range of frog species on our 400 hectare Stony Rises site in the northern parts of Otway Ranges (pictured above) and our 90 hectare property adjacent to Gariwerd (Grampians) National Park.
The species include the growling grass frog, brown tree frog, common eastern froglet, southern smooth frog, pobblebonk, striped marsh frog, spotted marsh frog, Sudell's frog, and Haswell's frog.
Permanent watercourses are scattered throughout Stony Rises and are listed in the Federal Government's Directory of Important Wetlands in Australia, while Gariwerd – located close to Glenelg River - features ephemeral wetlands which dry out and re-emerge during periods of rain (check out this clip of frogs in full chorus from last year).
Three ways you can give frogs a helping hand in your own back yard
Add ponds and native vegetation: Building a pond or modifying an existing water feature are great ways to attract frogs. You could even consider converting a wet, boggy section of your yard.
Remember however not to locate the pond or habitat in a place where there's likely to be run-off from pollutants or pesticides as frogs are very sensitive to chemicals. For the same reason, never fill up the pond with treated water directly from the tap. Allow the water to sit in the sun for about a week first to break down the chlorine.
Frogs also like a well protected shady environment, including rocks, branches or logs, trees, shrubs and understorey plants. Partially buried, old terracotta pipes can make a fine substitute.
Placing garden lights around the yard will help attract moths, bugs and other insects – which provides a tasty meal for your frog companions.
Build it and they will come: Chytrid fungus is a serious threat to frog numbers. Let frogs make their own way to your pond, and never relocate from other areas. You could be spreading the disease.
Avoid handling frogs: With their sensitive skin, frogs easily absorb chemicals - this includes your hands.
To find out more about what we're doing, or help us tackle climate change and restore biodiversity, become a member, or contact us on 1300 242 829 or via email.