What if you owned one of the most pristine private wetlands sites in Australia and you could create a lifeline to help protect hundreds of native animal species from the impacts of climate change?
At Carbon Landscapes, that's exactly what we're doing.
Stony Rises is one our long line of valuable private conservation projects, coming at a critical juncture in our country's environmental history.
As we mark World Wetlands Day on February 2, read on to find out what we're doing to boost precious biodiversity in an important pocket of Victoria's west.
Why Stony Rises is so important and what we're doing
Virtually unchanged since European settlement, our Stony Rises property has been preserved specifically for conservation for the past 50 years – making it a unique and extremely valuable refuge.
"With climate change threatening the very survival of many of our native animals, Stony Rises is quite simply one of the best strategically located, privately-owned wetlands properties for bolstering biodiversity in western Victoria," says Carbon Landscapes' Chris Pitfield.
"As people throughout Australia celebrate World Wetlands Day – which is calling for awareness to reverse the rapid loss of wetlands – it's the perfect time to highlight some of our newest initiatives.
"Wetlands – such as those found within the Stony Rises – are critical to the environment.
"They support animals and plants that aren't found anywhere else as well as store a significant proportion of the world's carbon and help to stabilise climatic conditions."
These images, taken in recent weeks, highlight the work being undertaken with a team of scientists – including eDNA sampling to determine what endangered species are currently living on the property. Covert cameras have also been set up to track species.
"Already we've uncovered evidence of wombats – previously wiped out through most of western Victoria - living on the property," said Chris.
"As well, we know it's an important site for a wide array of waterfowl, migratory birds from many parts of the world, all sorts of frogs as well as koalas and many other species.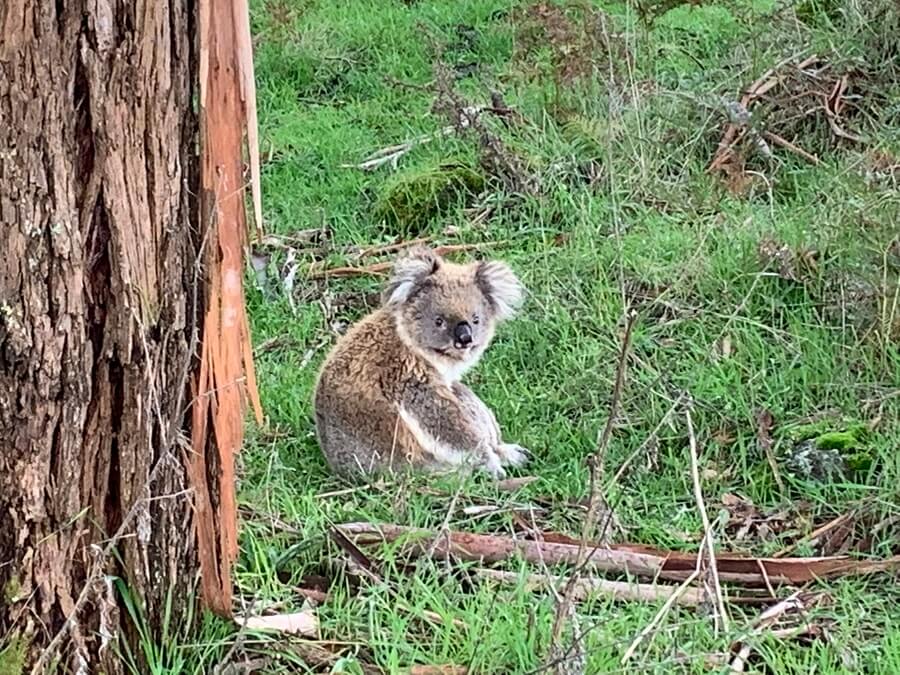 "Over the next 12 months we'll be exploring ways to remove introduced, predator species and managing the habitat in parallel with other similar groundbreaking projects we've instigated across the state."
Since the 1970s, the land at Stony Rises has been in the family of Carbon Landscapes co-director Dr Steven Enticott, pioneers of private conservation in Australia.
Located south of Lake Corangamite, many of its wetlands are permanent and not subject to seasonal drying out.
This will make it even more important for the future survival of wildlife, with many species predicted to migrate to the cooler climes of Australia's southern parts to escape rising temperatures in coming years.
In addition, almost 95 per cent of the vegetation at Stony Rises – a varied collection of woodland on a network of rocky ridges – is not within a park or reserve, with the majority only found on private land.
Lake Corangamite, coincidentally, is the largest permanent saltwater lake in Australia and listed as a RAMSAR site and is habitat for a range of local and international rare and threatened flora and fauna.
Australia's biodiversity under threat
Climate change doesn't just affect humans.
The impact on Australia's bioversity has been staggering. According to the CSIRO, more than 310 species of native animals and over 1180 species of native plants are already at risk of extinction from invasive alien species and altered habitat, as well as human activities.
In fact, many native species have already begun making their way to cooler areas or from hot, humid areas and heading towards mountain ranges.
With research indicating the effects of climate change will have significant effects on biodiversity by 2030 – just a few, short years away – and widespread and even extreme impacts by 2070, now is the time to act.
It's time to get involved
To bolster biodiversity at the Stony Rises as well as explore the many ways we are financing conservation outcomes, become a Carbon Landscapes member. You can contact us on 1300 242 829, via email or follow us on Facebook at https://www.facebook.com/carbonlandscapes